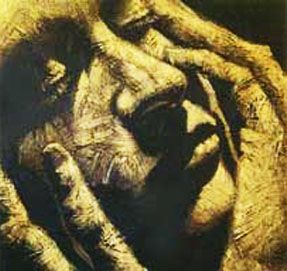 It was the first day of summer vacation, I was 16, and I had some money to burn. I gathered some things and set off for a shopping trip. I remember feeling this great sense of independence and freedom - a car, some cash, a sunny day - could it get any better than this?!
Not even a mile from home, I realized it was time to put some music in. I felt around the seat next to me for the cassette tape I was in the mood for.. Marilyn Manson? Nah. Tori? Not today.. Ah yes, here it is.. Wilson Philips,
"Shadows and Light"
. Perfect!
Oh, c'mon you stupid cassette.. Go in the tape player! *fiddles with it*
The next thing I know, my car has been flung off the road. I'm driving in the ditch at about 50mph. I remember screaming, and feeling like this wasn't really happening, when my car flew over a waterway and crashed head-on on the other side. The impact was unlike anything you could imagine. The car hit head-on, then toppled over to one side, with the passenger side facing towards the sky and me facing the ground.
After a lot of screaming and crying, I realized that the car was going to explode, that I was in the middle of nowhere, that I had to get out, that no one would find me, and that I would die. I unbuckled my seat belt, managed to stand on the steering wheel, unroll the passenger-side window, and pull myself out of the car. I wish I had that on tape. That must have been a sight! While I was pulling myself out, I noticed my left forearm bend inwards - kind of like how your arm does at the elbow? Only this was my forearm. How I didn't faint, and how I still managed to pull myself out of there, is beyond my comprehension.
Now what? Well, I've got to find help. I hobbled a half-mile until seeing a tractor out in a field. I waved frantically, and this poor old farmer drove over to see what was up. I tried to remain calm, for his sake, even though blood was streaming down my face and legs. He drove his old tractor home and called an ambulance.
When all was said and done, I had bruised my lungs, cracked my sternum, and broken my left arm so badly they had to put it back together with a metal plate. I had plenty of deep cuts, too.. I managed to still smash my head into the windshield, even though I was wearing my seatbelt. (which saved my life, I have NO doubt) After a full week in the hospital, doped up on as much morphine as the pump would let me have, I was set free..
.. to spend the entire summer recovering.
The crash came at a strange time in my life. I had been dabbling in the occult - Wicca, Tarot, New Age. My destination the day of the crash was Barnes & Noble, to look over their New Age books. I spent a lot of time that summer wondering if this was some kind of sign? A warning? Then I would think "Don't be silly. If 'God' wanted to send me a message, he could be less dramatic about it!" But I still had to wonder.
My Tarot cards were with me in the car when it crashed. I kept them with me almost always. Upon impact, they scattered and flew everywhere. When I got home from the hospital, my brother brought them to me. He had gone through the wreckage and gathered them for me, as many as he could find. It meant a lot to me that he did that. A few cards were lost - it's no longer an entire deck. But I still have it with me. I like to look through them sometimes and think how we're the only things that survived that crash.
I had to work through a lot of guilt and anger about the crash. I went through the terrible "What If's" countless times.. What if I had waited a little longer to go? What if I had just listened to the radio? What if I didn't have to buy a book about Wicca? What if I just stayed home? Or the blame-game: Why was there loose gravel on the road? Why weren't there guard-rails by the waterway? (there are now, by the way) Why was God punishing me?
I've found peace now. I was sixteen. I was happy and careless.. I wanted to listen to Wilson Philips. I hit some loose gravel, and ran off the road. And, that's it. It was scary and shitty, and my body is forever changed because of it, but I've survived.
Wilson Philips: "Hold On"